From reminiscing about fond memories to laughing at fashion choices and hairstyles, looking through old photos is a great way to get the whole family together.
To bring iconic memories back to life, residents in our Birmingham care homes have recreated their favourite childhood photos with their families and brought cherished memories back to life, right down to the outfits and facial expressions - with some of these photos dating back to the 1960s!
We've highlighted our absolute favourites below, including Grace (90 years old) and her two daughters Judith and Val, who have recreated a treasured photo from a family day out in Rochdale.
Are you interested in viewing Cofton Park Manor?
For availability and pricing, call 01213 873707.
Request a brochure
---
Grace, Val, and Judith
Grace recreated a family photo with her two daughters Val and Judith. The original photo was taken on a playing field in Rochdale and was recreated in the landscaped gardens of Cofton Park Manor, West Midlands.
Val shares "Recreating our family photo was great fun for everyone and it made my mum smile - we all need to have a laugh in life.
My favourite part was dressing up (although I wasn't too sure about my knee-high white socks) and the expression on my sister's face - it was very funny to see her re-enact this!"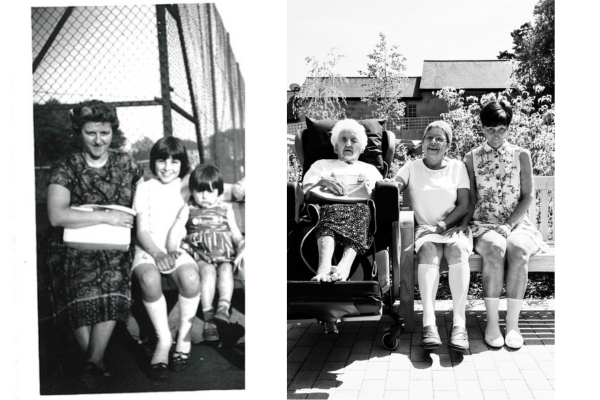 ---
Jean and Julie
Jean (87 years old) - a resident at Cofton Park Manor in Birmingham - and her daughter Julie, recreated a family photo from when Julie was a baby. In the original family photo, Jean's mum is by her side, which brought back very fond memories.
Jean remembers "Julie was a very lovely baby and the picture brought back memories of my mum and dad. Julie was the first granddaughter and my dad adored her - my parents would take her on holiday to the beach and we have some great pictures from these times too!"
Julie is excited to see the final image and shares "Recreating old family photos is a great idea, it's nice to be silly sometimes and I've really enjoyed it."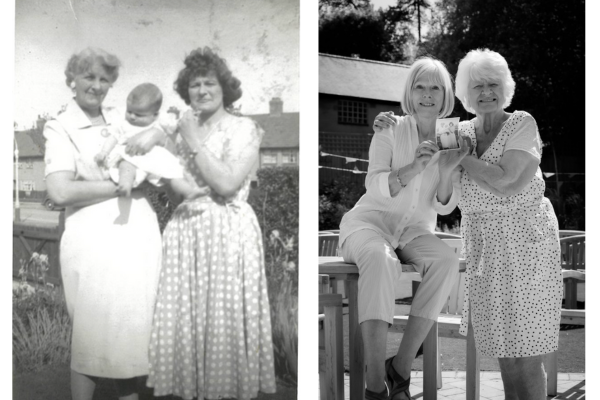 ---
Sybil and Michelle
For mother and daughter duo Sybil and Michelle, it was a heartwarming experience to recreate a family photo from 1973 - when Michelle was just three years old!
A resident at Cofton Park Manor, Sybil (82 years old) shares, "I've loved the activity and I've loved my life with Michelle - we're best friends. We had 25 photo albums full of memories to go through and it was lovely to see photos and silly memories of my late husband Des."
Michelle enjoyed finding different photos she could recreate with her mum and shared how important it's been to find a home that organises meaningful activities like this/
"Before moving into Cofton Park Manor, Mum was able to join in on the activities in the home and it made me feel better knowing I was handing over her care to people I knew and trusted."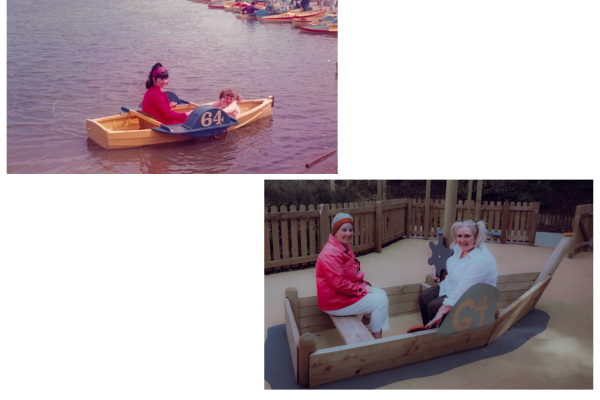 ---
How Did the Cofton Park Manor Staff Find the Experience?
Gail Bessent, Lifestyle Lead at Cofton Park Manor, who worked closely with residents to help bring their favourite family photos back to life, shares:
"I loved working with our residents and their relatives to bring cherished family photos back to life. It's been great to see the joy looking through old family photo albums with loved ones has brought to our residents."
"I can't wait to see what the recreated photos will look like. It's been lots of fun organising the activity and working with each resident to gather replica props and outfits."
---
Why Celebrating Family Bonds Is So Important
There's something so special about hearing the unique and fond memories searching through and recreating family photos has brought to the residents at Cofton Park Manor.
Family bonds play an important part in wellbeing and quality of life as we age. Engaging in activities that encourage reminiscing over treasured memories can have a positive impact on the overall happiness of everyone involved.
Projects like this one at Cofton Park Manor are not only a wonderful way to celebrate occasions - including Father's Day - but also an opportunity to strengthen intergenerational relationships and create a sense of belonging within the care home community.
The recreated family photos will be displayed throughout the care home, allowing residents, staff and visitors to reflect on the rich histories and stories behind each image. Additionally, family members and residents have copies of both the original and recreated photos, serving as a timeless keepsake.
---
Lottie matches care seekers with the best care homes for their needs. You can request a free care home shortlist from our care experts, who will share homes matching your budget, location and type of care needed. You can also search for a care home through our easy-to-use directory.