We collaborated with Portsdown View Care Home in Havant, Hampshire to put on a 'Coachella' inspired festival to unite generations in the local area.
Here, the local community was warmly welcomed to a free, age-friendly festival with a range of fun activities, including traditional fun fair games, live music, glitter tattoo and hair stations, positive mantra stone making and delicious food.
Carechella helped break down barriers and negative stereotypes of ageing and we're proud to have partnered with Portsdown View Care Home for this event.
Are you interested in viewing Portsdown View?
For availability and pricing, call 02392 001841.
Request a brochure
---
Carechella Was Fun For People Of All Ages
Arthur and Janet
Husband and wife, Arthur and Janet moved into Portsdown View in July and found Carechella 'absolutely wonderful.'
Janet shared 'I enjoy all the events the home puts on. At the last event it was raining, but it's nice to see the sun shining for us all today.'
Daphne and Elise
Another resident at Portsdown View, 96-year-old, Daphne enjoyed the festival with all her family; including her great-grandchildren.
Daphne got into the festival spirit by wearing a flower garland, face gems, glitter tattoos and had her nails painted in a gold chrome colour. She shared, 'It's been a lovely day. My favourite part was the amazing music'.
Daphne's granddaughter Elise shared; 'It's been lovely to come as a family and to spend the day with nan. The home is very welcoming with family visits and we're visiting again tomorrow to celebrate my son's birthday.'
Mike
Mike, another resident at the home, enjoyed the day with his family by his side. His 3-year-old great-grandson enjoyed dancing to the music and Mike shared 'music runs in the family. He's a very good drummer and can drum along to nursery rhymes!'
Chris Sharpe
Chris Sharpe - organiser of The Havant Stroke Club - also enjoyed her afternoon at Portsdown View dancing along to the music. She shared 'I like doing my bit for the community and meeting new people. It's been great to come to the event today and find out how we can support the home and our community members.'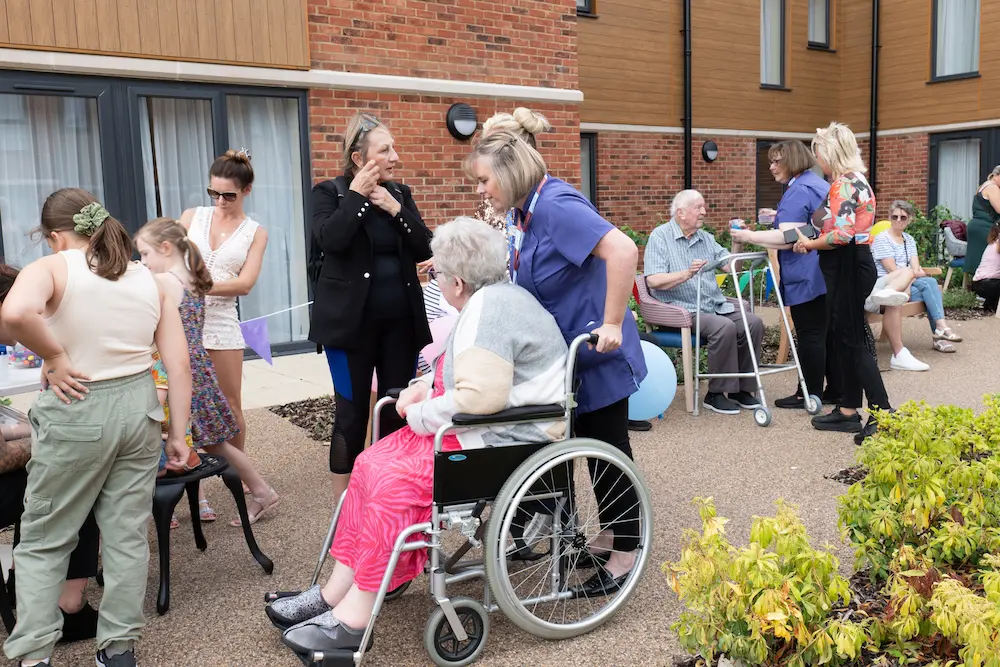 ---
The Sunshine Sisters
Singing duo The Sunshine Sisters kept Carechella festival goers entertained with music from throughout the decades and ended their set with a crowd pleaser 'Proud Mary'.
Zoe, a member of The Sunshine Sisters shared 'We love singing all genres of music and it's been wonderful to be part of Carechella at Portsdown View. There's been a really lovely atmosphere, everyone has been friendly and we loved seeing care home residents, staff and families dancing along with us.'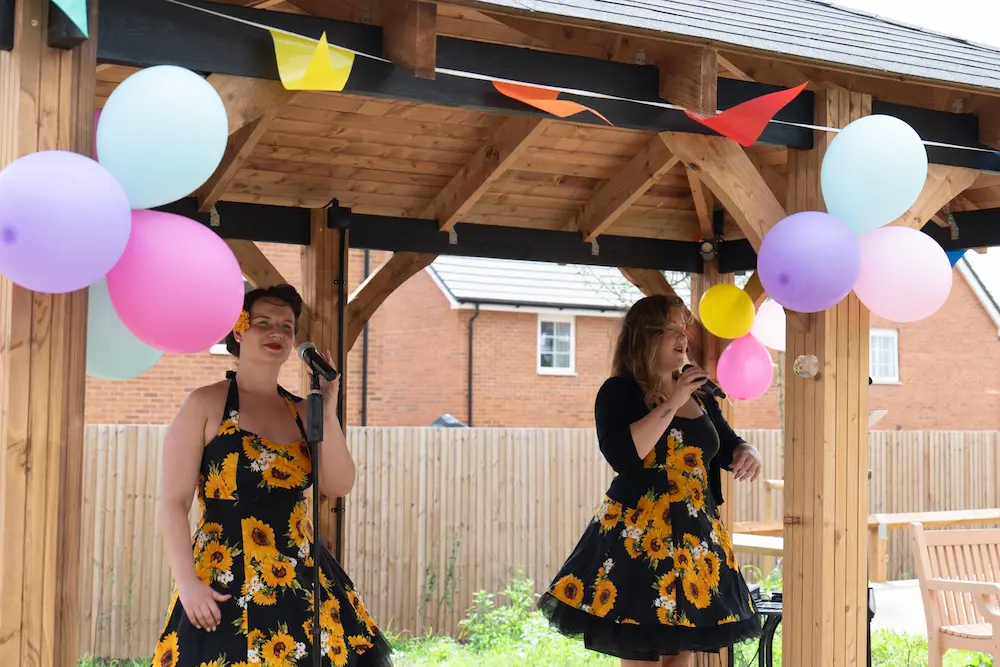 ---
Positive Mantra Stones
One of the most popular activities of the day was the 'Positive Mantra Stones' station, where festival goers were able to leave positive and inspirational messages for residents at Portsdown View.
Here are some of our favourite messages from these stones:
'Shoot for the stars'
'Be Happy'
'Love'
'Smile'
'Happy Thoughts'
'You Are Amazing'
'Be Kind'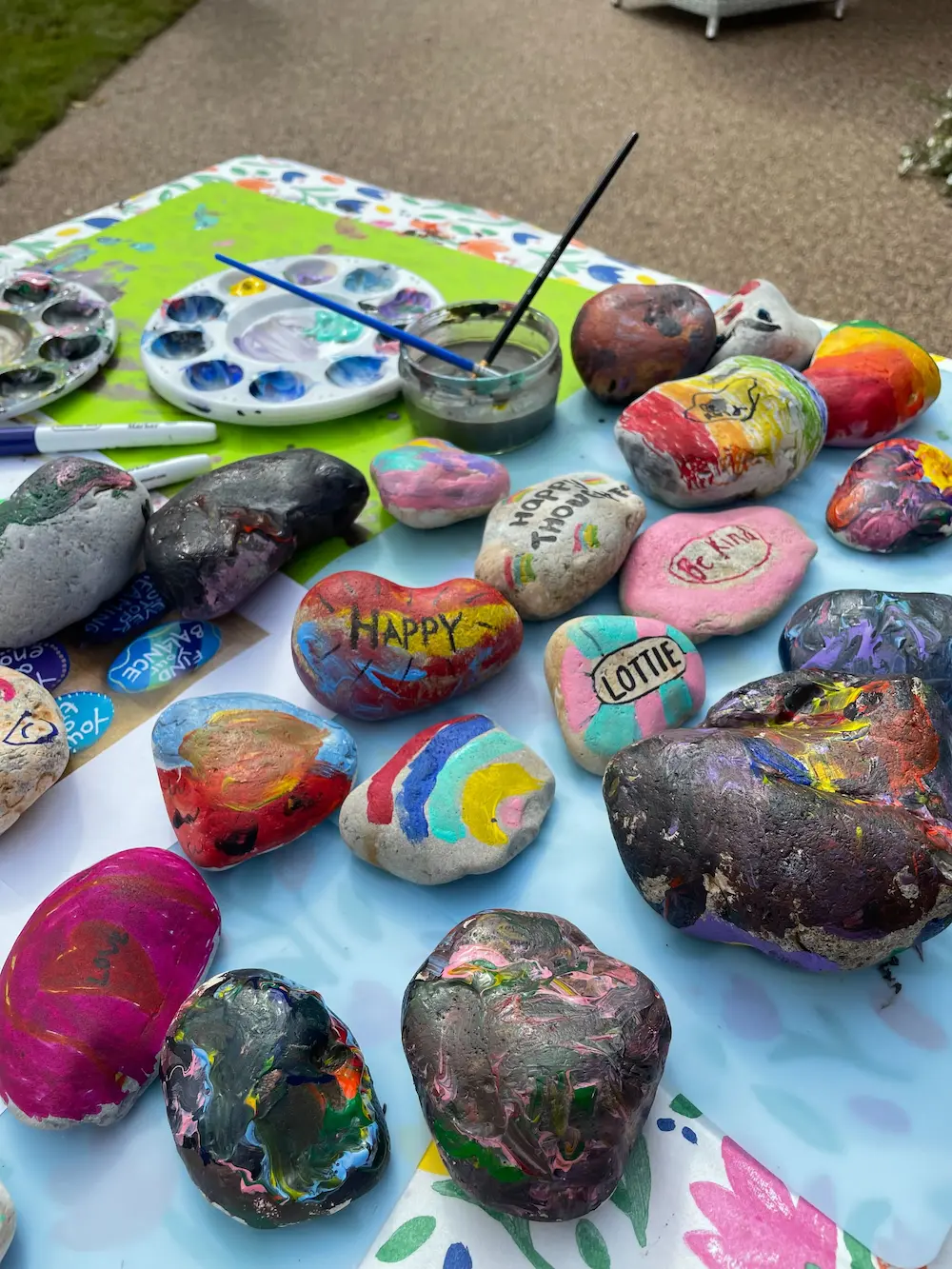 Theon and Beau
4-year-old Theon loved getting creative with the paints and made a colour rainbow stone for the residents at the home to enjoy. His sister - 9-year-old Beau - also enjoyed making mantra stones and left several inspirational messages including 'Shoot for the stars'.
Geraldine
65-year-old Geraldine wrote 'Smile' with a hand-drawn sunflower.
Poppy
9-year-old Poppy spread positivity by creating a blue pebble with a picture of a bee and captioned it 'Be Happy'.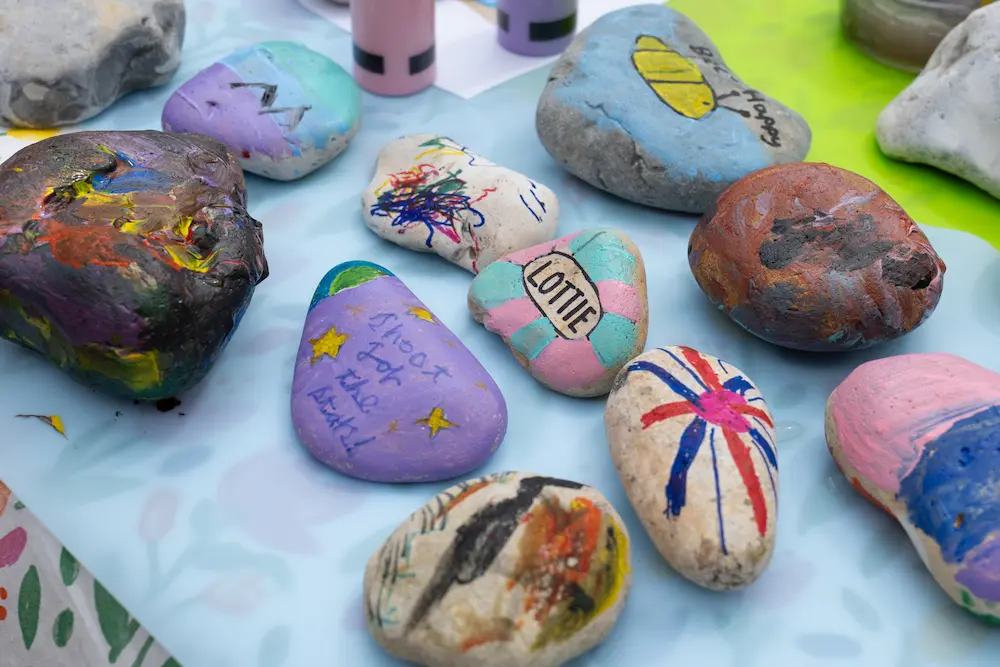 ---
What the Portsdown View Staff Thought Of the Event
Sarah Peach, Care Home Manager at Portsdown View, shared:
'We decided to host Carechella - the first ever festival of its kind - to celebrate the lively spirit of older adults and unite generations in our local community.
We had over 60 people attend our festival on Saturday and it was amazing to see residents, their friends, family and people from the local community come together. A great day was had by all, the sun was shining and the home was filled with a lively and welcoming atmosphere, which was great to see after all the preparation that had gone into organising the day.'
Megan Courtman, Events Manager at Portsdown View shared:
'I love my job and it was great to see the residents enjoying themselves with their families.
It was lots of fun planning Carechella. We had plenty of fun activities organised throughout the day, it was amazing to see how popular the mantra stone station was and to read all of the positive messages we had collected by the end of the day. They will serve as a perfect reminder of a fun day shared with friends, family and the local community.'