As the UK population continues to age, the range of housing options available to older adults continues to diversify. One type of accommodation that's surged in popularity with older adults is warden-controlled housing, which is a type of supported living.
Census 2021 results show that people aged 65 and over now make up 18.6% of the population (over 11 million people), compared to 16.4% during the previous census in 2011. This data helps to illustrate how a growing number of older adults could benefit from this type of housing and similar forms.
Where would you like to live?
Browse the best retirement homes near you through Lottie.
Find your new home
---
In this article on warden-controlled housing:
---
What is Warden-Controlled Housing?
Warden-controlled housing is a type of UK retirement housing or sheltered housing. Here, a warden either lives on-site or very near the housing development. This warden is there to provide support during emergencies and generally make sure residents' needs are tended to.
Warden-controlled housing is very similar to other forms of retirement living and supported living. Here, independence is promoted in a secure environment, with residents still having access to care and support, in case it's needed.
This type of property is usually built with older adults in mind. As a result, features like wider doorways (for wheelchairs to fit through) and more ramps or lifts instead of stairs are commonplace.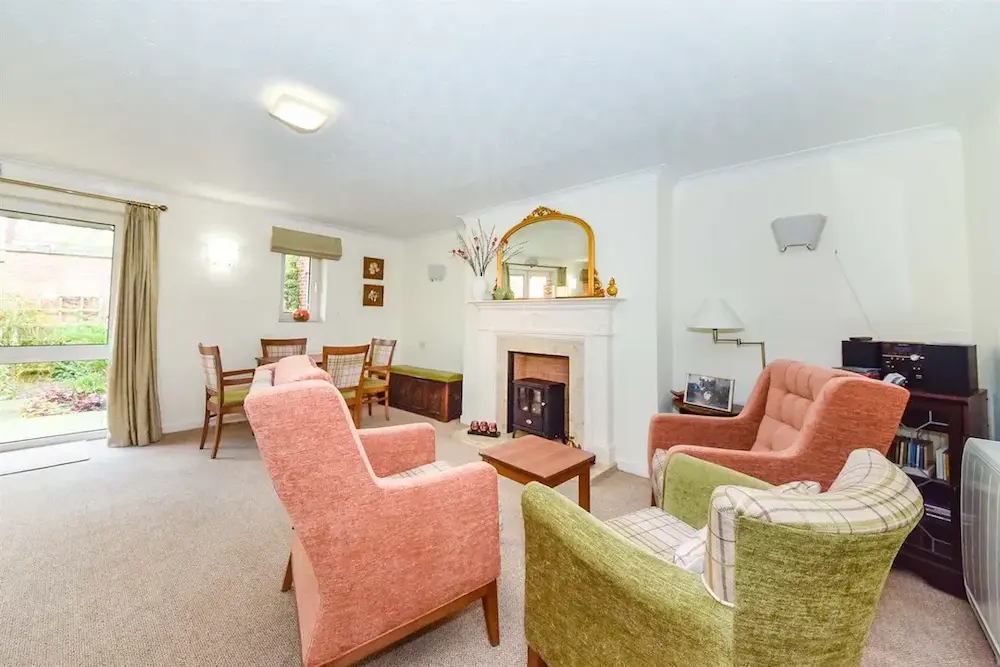 ---
Who Is It For?
The majority of warden-controlled housing is available to you if you're aged over 55 (although some schemes will have a slightly higher minimum age).
Some schemes are also available to people aged under 55 who have a physical disability or learning disability.
---
What is a Housing Warden?
A housing warden - also known as a scheme manager or house manager - is responsible for managing a sheltered or retirement housing scheme. Some of these schemes have a resident warden and a 24-hour service, while others have visiting and part-time wardens.
In a general sense, housing wardens oversee day-to-day services while responding to the needs of residents.
What does a housing warden do?
Over the last few years, there have been several changes to the duty of a housing warden, which can vary quite a bit from scheme to scheme.
Most wardens are now expected to:
Manage the scheme
Develop relationships with older adults living in the scheme and make sure they're properly looked after
Provide residents with information on availability and access to services while also encouraging them to seek out additional support from other statutory and voluntary organisations where necessary
Summon help in emergencies
Supervise other members of staff who cook and clean for residents
Keep the building and any communal areas clean, safe and secure
Arrange repairs and maintenance
Housing wardens may also organise fun activities for residents, such as bingo, lunch clubs and other games - much like that of an activity coordinator. Some housing wardens will also oversee personal care services for residents.
---
How Much Does Warden-Controlled Housing Cost?
Lots of factors come into the cost of warden-controlled housing, including the below:
Location - Retirement home costs and care home costs differ from region to region. For example, our internal data shows that the average cost of a one-bedroom retirement apartment in London is £708,200, compared to just £215,922 in the North of England North East and North West) and £214,927 in Yorkshire

Renting or buying - Whether you choose to buy or rent will influence how much you pay. Often, renting can end up being more expensive in the long run. Our internal data shows a one-bedroom retirement apartment in South East England costs an average of £342,900. In comparison, the cost for the same property when renting is £2,278 per month

Property size - Naturally, the size of the property you're after will affect the price. Using our internal data for comparison, the average cost of a one-bedroom retirement apartment to buy in East Anglia is £213,950, compared to £317,700 for a two-bedroom apartment (a 39% difference)
There are several other fees associated with warden-controlled housing and retirement living in general, including living costs, any additional care costs and management fees as provided by the warden (these are often £500 to £700 a month, but can cost up to £1,000 at high-end developments).
---
How To Find Warden Controlled Housing
One of the free services we offer is helping older adults find warden-controlled housing or a similar form of retirement living. We have a wide selection of retirement homes, so you can easily find one in your local area or a different part of the UK.
Our retirement home listings state what care and support they offer to residents. The below example - at Eden Court Retirement Home in London - offers warden-controlled housing (titled as '24/7 on site support'), domestic support, companionship care and personal care.
Here are some of our other best retirement villages that offer warden controlled housing:
Blagdon Village in Taunton, South West England
Elizabeth Place in Market Harborough, East Midlands
Thorneycroft in Tettenhall, West Midlands
Pegasus Chapelwood in Wilmslow, North West England
Elderton Place in Whitley Bay, North East England
Matcham Grange in Harrogate, Yorkshire
There are a few other ways to search for and find warden-controlled housing in the UK. You can use this Government website to find various types of sheltered accommodation throughout the country.
Aside from that, the easiest way to find warden-controlled housing is through your local council. All you need to do is enter your postcode and then once you've located your council, get in touch and enquire about what options are available.
---
Retirement living developments offer secure, vibrant and luxurious housing with state-of-the-art facilities for older adults. Request a free retirement living shortlist and we'll recommend retirement properties matching your budget, location and desired facilities.