Keeping fit and healthy is important for good wellbeing. Not only does regular physical activity in later life improve your health, it also helps you meet new people and form support networks.
Finding an exercise class for over 60s near you is the perfect way to stay social and active!
With this in mind, we've curated some of the best exercise classes for over 60s in the UK. We've looked at various directories that are perfect for finding fitness groups near you, along with recommending several other options throughout the UK.
Learn more about Lottie
Compare local care services or discover your dream retirement home.
Browse Lottie
---
Where To Find Exercise Classes For Over 60s In Your Local Area
There are several websites dedicated to helping older adults find exercise classes and groups in their local area
Better is a charitable social enterprise that puts on a wide variety of fitness classes for people of all ages. These exercises are very varied and provide a range of classes focused on different areas of wellbeing, including mind and body, strength and conditioning, cardio and dance.
You can also use the NHS to find fitness activities. Just like with Better, all you need to do is enter your postcode, town or city. You'll then be presented with numerous results - starting with those nearest to you - many of which are ideal for those over 60. Be sure to have a good look through these to find the class which is perfect for you!
Finding your local Age Space community group is another great way of locating classes near you. Each location hub provides information, guidance and signposting to the best available resources. To search through this website, click on your county of choice. Then click 'Health and Wellbeing'. Finally, click on 'Exercise classes for the elderly in your chosen location' to find what exercise classes are available to join nearby.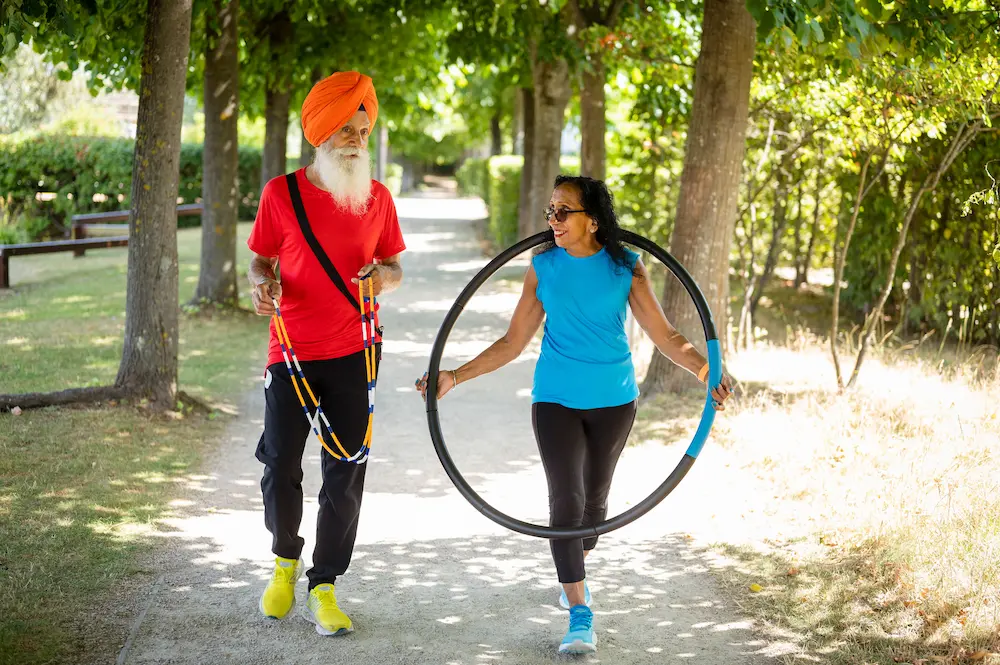 ---
Fitness Classes Run By Age UK
One of the best ways to find exercise groups and activities for over 60s near you is through Age UK.
By clicking the link above, you can enter your postcode to find a range of different classes your local Age UK team run.
---
UK Exercise Classes For Over 60s
Below, we've put together a list of exercise groups for over 60s in different parts of the UK.
Use our navigation links to find classes in your local area!
London and the South East
Mytime Active
The Mytime Active programme provides numerous exercise classes for over 60s across South London, including in Bromley, Orpington, Beckenham, West Wickham and Farnborough Village.
This programme allows eligible older people to participate in eight weeks of free classes. These will improve body strength, balance and mobility while providing a great way to make new friends!
Age Space Elderly Exercise
You can use Age Space to find classes throughout the UK. Here, we've picked out exercise classes for the elderly in Essex. Essex has an outstanding selection of exercise classes for over 60s, including yoga, walking sports and aerobics.
You can use the link above to join groups throughout Essex, including in Colchester, Braintree, Chelmsford, Epping, Basildon and more!
South West
Exercise classes for seniors in Dorset
You can also use Age Space to search for exercise classes for over 60s in Dorset. There's a range of clubs suitable for all sorts of mobility needs in Dorset.
One of the most popular and accessible classes is Melodies in Motion - a musical full-body workout in Bournemouth and Poole. Another is Body Balance Over 60s Dance. This low-impact and fun workout in East Dorset aims to improve strength, posture and stability while helping you stay healthy.
The Midlands
Agewell
If you'd like to join low-impact classes but don't know where to start, Agewell runs several exercise sessions each week for over 60s and those with accessibility requirements. Sessions last 1-2 hours and are held at various community venues across Sandwell in the West Midlands. They cost from £4 a session and activities include gentle exercise, strength and balance, Zumba Gold and pilates.
Corby Leisure
Get Up & GO is a countywide fall prevention programme across Northamptonshire that provides lower-intensity strength and balance training for older adults, helping them to build confidence to move around independently. Sessions can be accessed through Corby Leisure and last a minimum of 24 weeks. They include prescribed exercise delivered by qualified exercise professionals.
Yorkshire and the Humber
North Yorkshire Sport - Strong and Steady
Strong and Steady is a programme in North Yorkshire designed to encourage people to stay fit while reducing their risk of trips and falls. Delivered by friendly and qualified instructors, specialised programmes are available across North Yorkshire and include activities like chair-based exercises, tai chi and walking for health.
Fitness Gold
A keep-fit class for the young at heart, Fitness Gold is a traditional exercise-to-music class, ideal for those over 60 years old. If you're recently retired and are wanting to improve your fitness levels, this fun-filled class could be the perfect one for you! Tracks are picked to reflect the main member demographic, with popular songs from the 50s, 60s and 70s making up much of the discography. Fitness Vibe is located in the city of Kingston upon Hull.
North of England
North Manchester Fitness
A friendly fitness club for people of all abilities based in North Manchester, the North Manchester Fitness group offers plenty of varied activities focused on staying active, having fun and socialising! Gym circuits, running, walking and pilates are all popular sessions and cost just £2 per session to join.
Scotland
Edinburgh Leisure Ageing Well
The Ageing Well Project in Edinburgh delivers a range of city-wide activities which support people over 60 to stay healthy and well. The emphasis is on meeting new people and making physical activity as accessible as possible as you age. Regular exercise classes include chair-based movements, cycle skills, dancing and nordic walking.
Active Age North Lanarkshire
Active Age NL offers many fun ways to stay fit. Classes cater to retired people, including those over 60. Easy aerobics is perfect for staying toned and raising your fitness level, while you can also combine relaxation and exercise through yoga, tai chi, pilates and Zumba Gold. These exercise classes can be found in North Lanarkshire.
Wales
Sport Cardiff 60+ Project
If you're looking to stay active and make friends, there are a number of 60+ activities on offer at Sport Cardiff. All sessions are £3 per person and allow you to take advantage of various classes, including lower-intensity aerobics, strength and conditioning, table tennis, walking football, nordic walking, tai chi and more. These are located at Cardiff Metropolitan University.
Active For Life
Active For Life near Bangor has a great range of low-intensity fitness classes for all ages - both online and in-person. Here, you'll find a fitness room, a small pool and a larger pool. Active For Life is also a great choice if you're looking to build confidence and want to try out fitness classes for the very first time.
---
We're on a mission to support individuals and their loved ones throughout each stage of their later living journey. For more information, check out everything Lottie has to offer.