Palliative care involves offering physical, emotional and practical support to people with chronic conditions or illnesses over 5 different stages. Family and friends can also be offered emotional support.
Not to be confused with end of life care, the 5 stages of palliative care can actually be provided over several years. Here, we've explained each of these stages, along with where palliative care can be received and the best time for it to begin.
Need to find palliative care?
Browse the best palliative care homes in your area.
Find palliative care today
---
In this article:
---
Palliative Care Explained
Through palliative care, the focus is placed on ensuring the person is best equipped to continue enjoying their life to the fullest while remaining as independent as possible.
Palliative care can include things like managing symptoms and providing whatever support is needed. Once a condition has been diagnosed, palliative care can begin at any stage.
Palliative care can include things like advanced care planning (such as helping you create a will) managing symptoms and offering whatever support is needed).
Physical, emotional and spiritual needs can all tie into palliative care, which makes up the 5 stages of support. We've gone over these 5 stages below.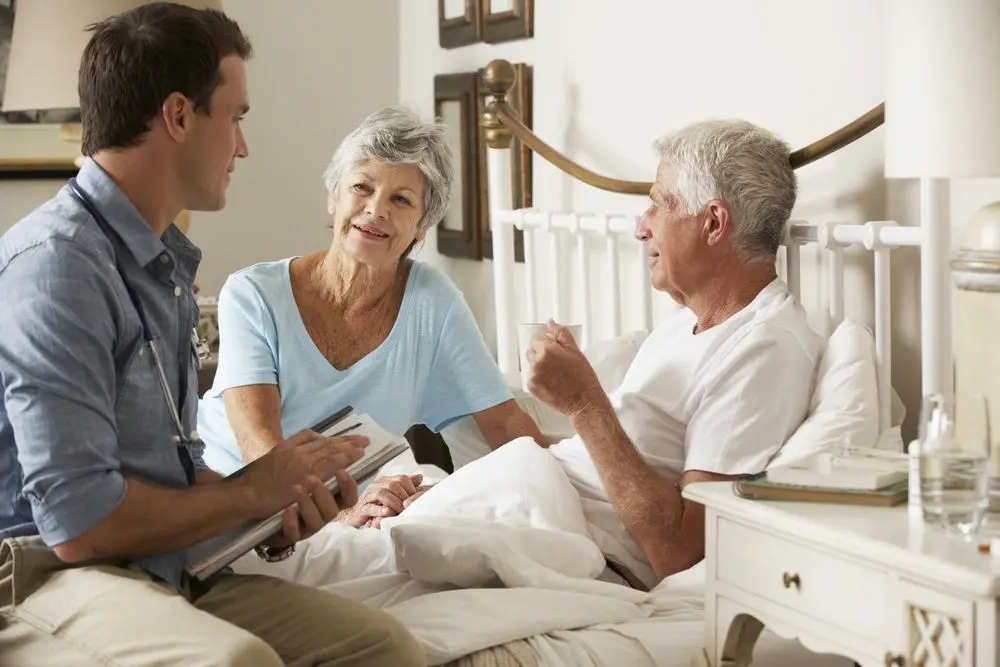 ---
The 5 Stages of Palliative Care
There are 5 stages to palliative care, each of which focuses on care and support at a different point in somebody's journey. Below, we've covered each of these 5 stages, including what they involve and how they'll help you and your loved ones through the process.
Stage 1 - Creating a personalised care plan
Stage 4 - End-of-life care begins
Stage 5 - Supporting loved ones
Stage 1: Creating a personalised care plan
During the first stage of palliative care, you, your family and your palliative care team will work together to create a bespoke care plan. This plan will be tailored to your specific condition and symptoms. It will outline your current physical and emotional needs, along with who is best suited to provide them.
This plan will also consider any potential requirements for the future as your condition progresses. GPs, doctors, registered nurses, social workers and physiotherapists may all have some input at this stage.
Though it might seem early, many people will also open up conversations about future planning, including things like advanced decisions, creating a living will and assigning somebody as your Lasting Power of Attorney (who will then be able to make decisions on your behalf).
Questions to ask at this stage:
Who will be part of my palliative care team?
Where will I receive palliative care?
How long is my palliative care likely to last?
Stage 2: Emotional support
During this second stage, the most important thing is ongoing emotional and spiritual support (if it's been requested). Receiving this support will allow you and your family to be ready for the later stages of palliative care.
Each stage is tailored to your loved one's specific care needs, so your care plan can always be adjusted or added to.
Having difficult but very important conversations with your loved ones about your condition and the future can make a huge difference to your mental wellbeing. Your palliative care team can help you through these conversations.
Questions to ask at this stage:
How am I likely to feel and what can be done to help with this?
What support groups are available?
How are my family and friends going to be supported?
Stage 3: Early-stage support
The biggest goal of palliative care is for you to feel comfortable, regardless of the setting you're in. Your support team will also help you to stay independent and active during this time.
If receiving palliative home care, you may need specialist equipment to be installed. There are also pieces of equipment aimed at making day-to-day home life easier, such as handrails, stairlifts and walk-in showers.
Your local council will likely pay for modifications costing under £1,000. For more expensive alterations, you might be eligible for a Disabled Facilities Grant.
Here are the maximum grant amounts in the UK for a Disabled Facilities Grant:
England

- £30,000

Wales

- £36,000

Northern Ireland

- £25,000
Questions to ask at this stage:
Is there a plan in place if my symptoms change or intensify?
What treatment options are there and what are the potential side effects of these treatments?
How can I make the most of my life?
Stage 4: End-of-life care begins
During Stage 4, your loved one will transition into end-of-life care. At this point, the biggest priority is making them as comfortable as possible, while also providing any emotional support to your loved one, family and friends.
At this stage, the individual may move into a palliative care home or somewhere similar. Alternatively, some people prefer to stay at home and instead receive live-in care.
By now, difficult decisions will need to be made if they haven't already. This includes creating a living will so as to avoid any legal complications after your loved one passes away.
Questions to ask at this stage:
What decisions need to be made?
What's a living will and how do I write one?
What can I expect in the final stages of my life?
Stage 5: Supporting loved ones
This final stage is when your palliative care team will offer bereavement support to your loved ones. This usually happens over 12 months.
During the final stage of palliative care, the focus will be on providing bereavement support to family, friends and carers.
During this emotional time, what somebody requires will probably vary quite a lot from person to person. People grieve in different ways and it's important that everyone receives the most appropriate type of care they need.
Through the NHS, you can find local mental health services. Organisations like Cruse provide grief counselling - both over the phone and through an online chat service.
Questions to ask at this stage (family members may be asking these questions):
Will you be able to tell me when my loved one is nearing the end of their life?
What support is available to family members after their loved one passes away?
How do you arrange a funeral?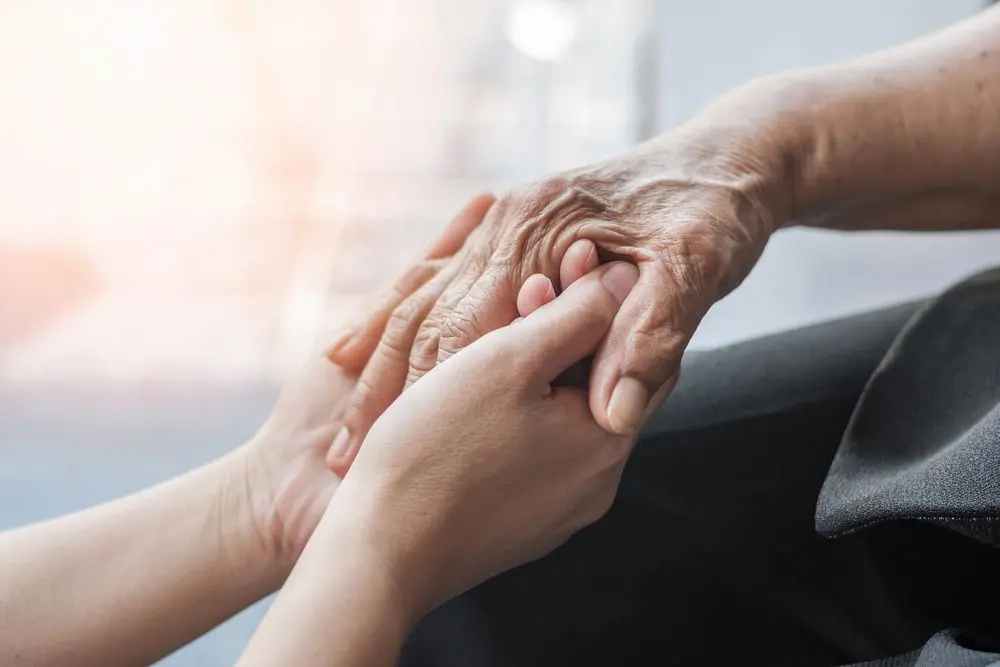 ---
Palliative Care Teams
A palliative care team will likely be formed to help coordinate whatever care and support you require. This team will comprise various professionals from across the health and social care spectrum.
Remember, palliative care is at its most effective when you or your loved one are supported in a way that feels respectful, comfortable and dignified. With this in mind, be sure to voice any thoughts surrounding how you'd like care to be handled.
The following people could provide support during the 5 stages of care:
Doctors and nurses
A GP will likely be your most important point of contact. Some of the tasks they might be involved in include prescribing medication, pointing you towards relevant information about your condition and working alongside the rest of your palliative care team to ensure you receive an excellent standard of care.
Meanwhile, a nurse can organise care at home if you're unable to leave your property. Care can also be given in a care home or a similar setting.
Home carers
Getting professional help at home from a paid carer can make day-to-day life far easier. Depending on your individual needs, you might benefit from just a few hours of home care each week, or several hours every day. Types of home care include companionship care and live-in care.
Social workers
Social care workers focus on non-medical support. Specialist palliative care social workers can offer practical and emotional support while also helping you to map out any future plans or wishes.
Mental health professionals
Palliative care takes a holistic approach, meaning it focuses on all areas, rather than just physical wellbeing. Speaking to a psychologist or similar mental health professional often has profound and long-lasting benefits. A counsellor can help you understand your emotions.
If you'd like to access different kinds of emotional support, you can ask your GP for a referral.
Charities or other support groups
These kinds of groups all focus on making sure you or your loved one have the necessary support to get through the often difficult and upsetting periods that come with palliative care. For example, Mind has a wide range of peer support groups. Here, people can share similar experiences with one another.
---
When Does Palliative Care Begin?
Palliative care can be started at any stage of a chronic condition. As soon as you've been diagnosed, you can in theory begin treatment. Some people begin palliative care after being initially diagnosed, while others will wait until further down the line.
The earlier you begin receiving palliative care, the sooner steps can be taken to make your condition as manageable as possible. This will also help to improve your overall quality of life.
Remember, you're in charge of the process. The main aim is to help you enjoy as fulfilling a life as possible, with support being provided from several different angles throughout your journey.
---
Lottie matches care seekers with the best palliative care homes for their needs. You can also request a free care home shortlist from our care experts, who will share homes matching your budget and location.